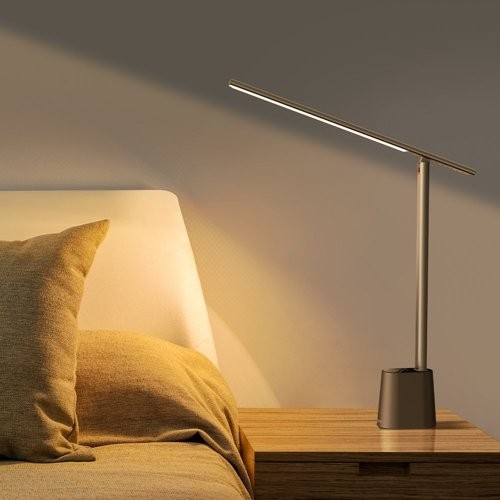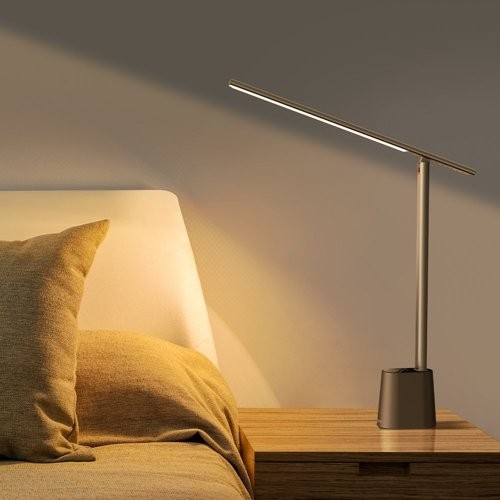 Baseus Smart Eye wireless LED desk lamp with a 2200 mAh battery
This wireless desk lamp provides many options for setting the type of light, thanks to which it will provide you with maximum comfort in work and relaxation. You can not only adjust the angle and focus of the light but also choose the color temperature that suits you best. You also have a smooth brightness adjustment or you can use the mode of automatic adjustment of the lighting intensity to the environment. All this means that you have the ability to precisely select parameters. You will ensure maximum concentration while working at the desk or relaxing with the soft, warm light of the lamp. Compact dimensions and low weight allow you to take the device wherever you want. The lamp only charges for 3 hours, which allows you to use it for 3 hours with strong lighting or 13 hours with low light.
Specification:
Brand: Basesus
Type: Cordless desk lamp
Type of light: LED
Material: ABS, PC, and aluminum
Input voltage: 5V
Number of LEDs: 32
Color rendering index Ra≥95
Battery capacity: 2200 mAh
Full charge time: 3 hours
Socket: USB Type C
Weight: 550 g
Set contains:
The most important information:
Smooth brightness adjustment
Three color temperatures
Automatic dimming
The lens focuses the light
Adjustable light beam angle
Natural lighting simulation
Compact dimensions
Lightweight
Adjustment of light parameters
This product provides a wide range of lighting parameters. You can use one of the three color temperatures:
white light (6,000 K),
warm light (3,000 K),
mixed light (4,500 K).
Thanks to this, you can choose the type of lighting to your need - relaxing, reading, or working at a desk. In addition, you can smoothly and steplessly adjust the brightness level. However, that's not all, because you can also easily choose which area to be illuminated. If you turn on the focused light mode, the lens will provide strong illumination of the selected area on the desk. The diffused light will be useful while reading or resting.
Small dimensions and low weight
The lamp weighs only about 500 grams and its base is small and light. You can take it wherever you want - on vacation, a business trip, or a trip. Durable ABS and PC plastics are not prone to damage and scratches.
Natural light mode
This mode is best for reading. Soft light, i.e. full-spectrum lighting, imitates natural light, thanks to which it cares for the comfort of your eyes, without causing fatigue and loss of concentration.